Latest PantyhoseCreep.com Updates
Ezmie Lee
November 28, 2013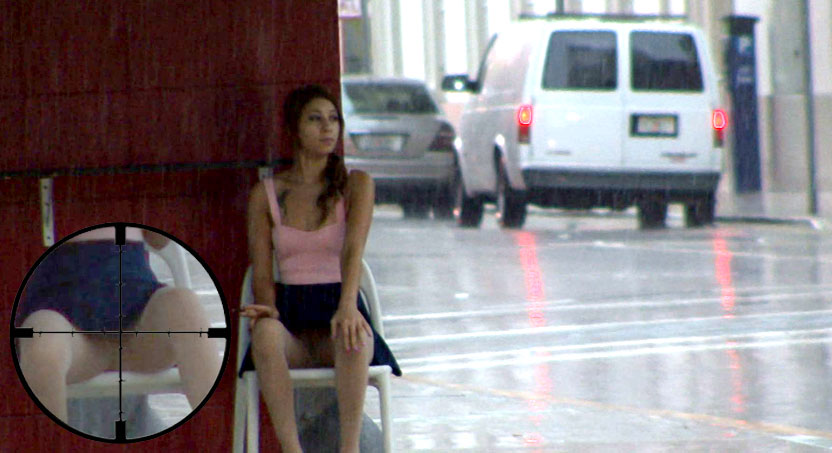 Getting caught in the rain can be annoying. Not for our creepy camera man. The rain has secluded his next obsession, Ezmie Lee, under a canopy. She impatiently waits for the rain to stop with a cigarette. Our creeper's zoom goes back and forth on her pantyhose and tall high heels. When she sits, a gust of wind blows up her skirt, revealing she has no panties on. He must approach her and offer a modeling job in his dry studio. Of course, he wants her naked and on top of him. Intrigued by his courage, she declines, but agrees to give him a solo show. He can even jerk off. She lets her dress drop and shows off her long legs, spanking on her pussy. She finds a vibrator, causing a tiny mess on the couch.
Aubrey Sky
November 21, 2013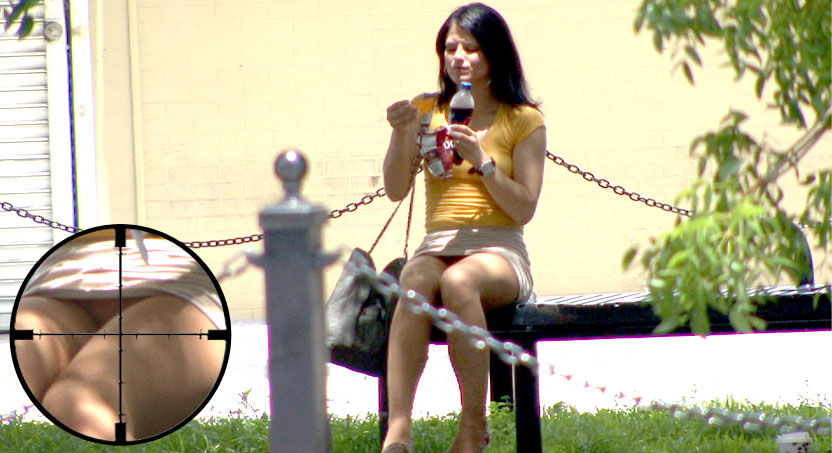 No matter how busy the city might be, our creepy camera man has no trouble spotting out Aubrey Sky. It must have been her tan pantyhose. Or maybe it's because she isn't wearing any panties, a discovery made through his zoom lense. The way she spreads her legs, anyone could see the absence of underwear. He catches up to her and offers her a modeling job. Her excitement dies down when she learns what he really wants: a cheap hump in his studio. Her disgust for him is apparent, making him pay for her sexy taunts. She shows off her long legs, letting her high heels drop of her feet. If our creeper was hotter, maybe his dick would by insider her. Not his dildo.
Karina White
November 14, 2013
Who know what our creepy camera man was doing when he saw Karina White. He watches as she talks on the phone and smokes a cigarette. He mostly watches her long legs in her tight blue pantyhose and colorful high heels. His zoom goes right up her skirt, finding she has no panties on. He follows her a bit before approaching her with a modeling job. He gets her to his studio, confessing what he's really after: a naked few hours. He'll pay for her time. Amused, she refuses, but wants the cash. She taunts him with her pussy behind the blue pantyhose, until all she's wearing are the pantyhose. He wants her bad, but all he can do is imagine his dick is the dildo she uses to get off.
Lexi Kartel
November 7, 2013
Our creepy camera man didn't have to go too far for his next obsession. In the waiting room of his building sits Lexi Kartel, dressed in his favorite articles of clothing: nude pantyhose and high heels. With his trusty zoom, he discovers she isn't wearing any panties. He approaches her with a modeling job. Our creeper is an honest man. When he has her to himself, he reveals his true intentions: a quick fuck for some cash. Pissed, she refuses, but isn't walking out empty handed. She'll give him a solo show. She undresses and shows off her tight body, bouncy boobs, and beautiful ass. She teases her creeper by caressing her long legs, rubbing on her pussy. The creeper pleads to touch her, but all he can do is watch. Even when she uses a dildo to orgasm.
Latest PantyhoseCreep.com Updates