Latest PantyhoseCreep.com Updates
Zarena Summers
February 6, 2014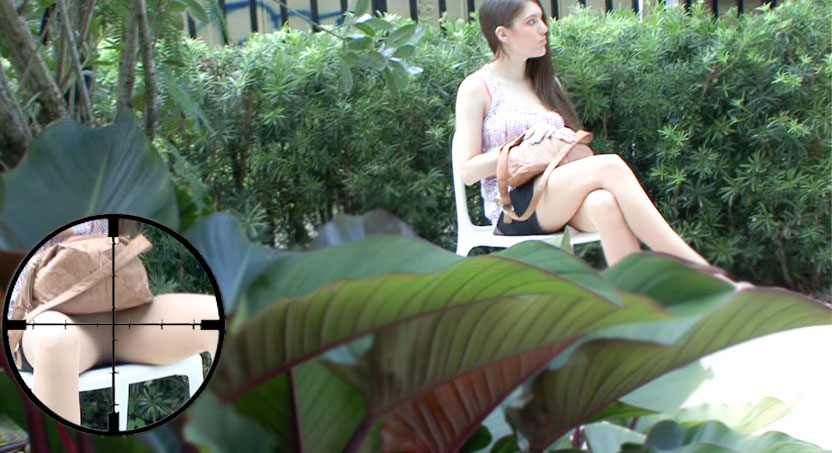 How does our creepy camera man get so lucky? He always knows how to spot the beauties with long legs and hip hugging pantyhose. In the park, sits the sexy Zarena Summers, enjoying the scenery on her break. She doesn't know her creeper is watching behind the bushes, studying her long legs, getting off on her tight pantyhose. Again, how does he get so lucky? She spreads her legs a bit, giving a glimpse of no panties and a tight pussy. She gets up to leave. He quickly approaches her with his usual proposal of a modeling opportunity. At first she turns him down. When he offers some money, she reconsiders. He brings her up to his studio and has her pose for him. She seems to be a natural. She lifts her long legs up in the air, showing off her high heels. She sits up and her tight skirt rises up. Her creeper pretends to be shocked at the pantyless view. But she doesn't stop posing, even taunting him with her wet pussy. But he can't touch. She slowly undresses, showing off her bouncy boobs and yummy ass. She stretches out her legs, letting her creeper worship them with only his eyes. She rubs on her clit, reaching inside her pantyhose for a better grip. She slowly slips her pantyhose off, caressing her soft skin. She smells them, puts them in her mouth, even uses them to play with her pussy. She knows you want to be the one doing that. Her creeper definitely wants to be. But, all you can do is watch.
Jessa Rhodes
January 30, 2014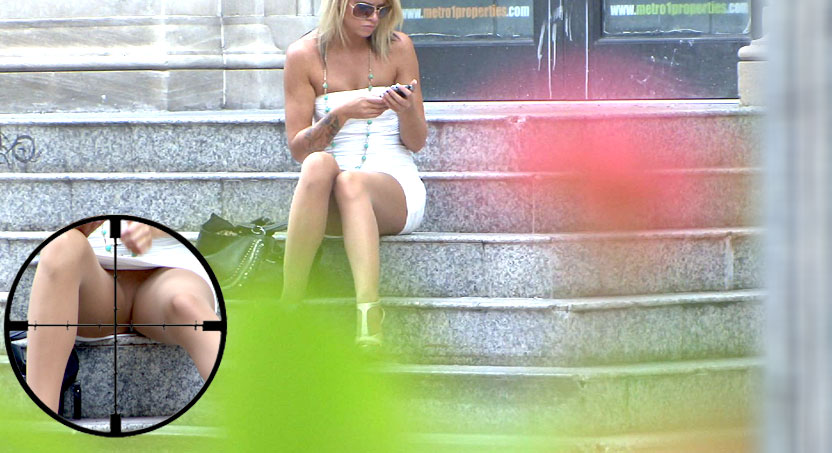 Our creepy camera man is on the prowl again for another hot babe to get back into his studio. How did you get so lucky? He sees Jessa Rhodes, a blonde bombshell in a body hugging white dress, nude pantyhose, and glittery high heels. He sees her sitting on the stoop of building, texting intently. She stretches her long legs, allowing her creeper's zoom to fly up her skirt. His suspicion was right. She doesn't have any panties on. The meet doesn't go so well. She does not want to be bothered by a weird guy with a camera. When he heightens his price, she stops and considers it. Back in his studio, she becomes loose, admitting she has no panties on. She poses more before her creeper reveals his true intention. Her trust sways and wants to make him pay. She slowly undresses, showing off her beautiful ass, rubbing her pussy. She slips off her pantyhose, using it to finger herself, driving her creeper crazy, since he can't touch. Also, he still needs to hand over the cash.
Alexa Rydell
January 23, 2014
A lovely afternoon for Alexa Rydell turned sexual with extra cash in her pocket. Everyone can thank our creepy camera man for that. His camera focuses on Alexa's pantyhose and high heels. Her creeper likes how she sits with her legs spread open. He has to approach a pretty girl with no panties on. She's surprised with his modeling job offer. She undressed pretty fast. She wants to be a perfect model. She poses, stretching out her long legs, touching her tight body. Sadly for our creeper, he can't fuck her. She's too good for him. But she'll show him how to jerk off.
Sage Evans
January 16, 2014
Do secretaries usually strut around town with pantyhose, high heels, and no panties? Sage surely does. Our creepy camera man happily becomes aware with his zooming camera. The real fun happens in his studio. She won't let him fuck her. But she'll take the cash and give him a solo show. She really wants to be naked. We're not sure if she's done this before. Only a professional shows off long legs like she does. She poses on the couch, stands up and bends over, giving her creeper a glimpse of her pussy. She poses on the bench, squeezing her boobs, rubs her pussy, tempting her creeper. All he can do is watch and jerk off.
Kennedy Leigh
January 9, 2014
At first, Kennedy Leigh seemed very comfortable on the phone. She sits at a bench, posing her long legs in front of her. Her skirt rides up, exposing the absence of panties. But she takes her time to pull it back down. Anyone could have seen, like our creepy camera man. He's been watching every second of Kennedy's conversation. When he gets her to his studio, she isn't shy. She shows off her body before he even asks, posing quite erotic, puckering her full lips. When he wants sex, she closes up. But the money keeps her going, as long as he doesn't touch her. He needs a lesson in masturbation. She shows him how to make himself cum.
Vanessa Sixxx
January 2, 2014
Vanessa Sixxx is getting some work done before running back to work. If she left a minute earlier, she might've avoided our creepy camera man. He's been watching her work, well, watching her legs. She does have on his favorite: pantyhose and sexy high heels. She relaxes with a cigarette. This is where a zoom lense travels up her skirt, exposing the lack of panties. He swoops her off her feet with a modeling job. Her open mind got her creeper a solo show. She playfully undresses and poses on the couch, showing off her long legs. She teaches him how to jerk his dick to her. Too bad he can't touch. She's not that open minded.
Stella Banxxx
December 26, 2013
Our creepy camera man has found a new fantasy. He wants to find out if Stella Banxxx is only wearing pantyhose under her hot pink trench coat. When she sits to readjust her high heels, he sees she has no panties on. He has to approach her. He makes her feel pretty, which gets her into his studio. Will pretty girls have sex for money? No. But she'll show the lack of clothing underneath her trench coat. Her legs are much longer without the coat. She teaches her creeper how to jerk his dick. It's the best thing he can do, since she won't let him touch her.
Ava Hardy
December 19, 2013
Ava's first day as a hostess really didn't go the way she thought. It started off with our creepy camera man zooming in on her pantyhose and tight dress. She waits in her car with the door open. Her creeper can see right up her dress and can see how she plans to make extra tips. She's wearing no panties. He approaches her before she goes to work, offering a modeling job. He only wants to fuck her, of course. This hostess thinks too highly of herself. She gets our creeper horny with her long legs, disrobing and rubbing on her body. She gives her creeper a jerk off lesson before making herself cum.
Nikki Blake
December 12, 2013
If Nicky knew our creepy camera man was watching her during her break, maybe she wouldn't have accepted his modeling job. He couldn't resist her pantyhose and nude high heels. He needed to talk to her when his zoom lense focuses up her skirt, revealing no panties and a beautiful pussy. When he gets her in his studio, he offers some cash to fuck her. She immediately refuses. His pathetic begging makes her laugh. She teases him by dropping her dress, showing off her long legs, and reaching inside her pantyhose to rub her pussy. Her creeper thinks she's inviting him, but she?s not. He can only watch her have real fun with his dildo.
Maci Lee
December 5, 2013
Our creepy camera man has his eye on Maci, a tall blonde waiting for a friend. Her pantyhose and black high heels definitely are a big plus. Her tight skirt rides up, surprising her creeper with a view of her exposed pussy. He surely does love women who don't wear panties. Since she has the time, she accepts his modeling job. Of course, he just wants to fuck her. Annoyed, she shows him what he can't have. Her long legs push him over the edge. The way she bends over and reaches for her pussy is more than a good reason to jerk off. If he was a gentleman, maybe she would've let him fuck her instead of a dildo.
Latest PantyhoseCreep.com Updates