Latest PantyhoseCreep.com Updates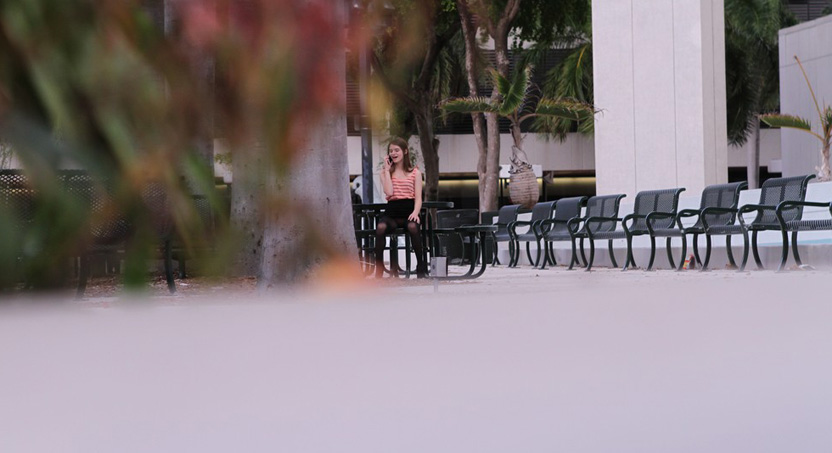 Fellow artist, Alice March, was so kind enough to help our creepy camera man finish his "project". We wonder if she would have if she knew he was following her, a close zoom on her black pantyhose. And there's the fact she's not wearing any panties. But he got her back to his studio, convincing her he needs her to pose for him. She isn't sure why he keeps focusing down at her pantyhose and high heels. He finally reveals the true nature of his project. This sweet art student turns into a demanding femdom. She'll let him worship her, only if he pays her. She gives him permission to whip out his cock, teaching how to stroke it as he watches her undress, taunting him with her long legs and wiggly toes. She slips of her clothes and plays with her pussy, continuing her jerk off instruction. She knows he wants to taste her pantyhose, so she tastes them for him, breathing in the aroma of her tight little pussy. Don't cum just yet. It's up to her when you do.
Tiffany Fox
April 10, 2014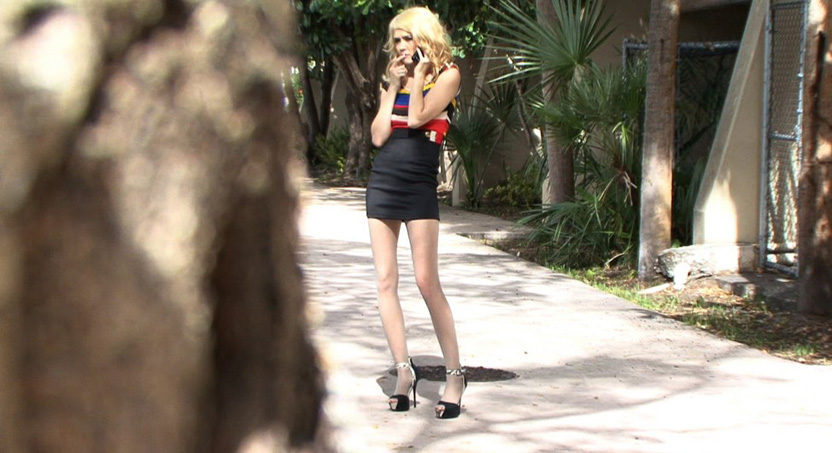 We think you'll love the girl our creepy camera man recently followed around the city. At first sight, it seems Tiffany Fox is taking it easy on her work break. She walks around, talking on her cell phone, finally finding a bench to rest on. Did we mention she's wearing tight pantyhose? Yet, there is something she isn't wearing. Of course, she's not wearing any panties. Her creeper approaches her with a modeling job, something she warms up to with the right price. When he gets her back to the studio, she definitely takes control, not minding her skirt has ridden up, exposing the lack of underwear to her "photographer". He thinks she'll say yes to some fucking fun, but he's not good enough for this Goddess. Just because she'll show off her pussy, doesn't mean she'll let anyone stuff it. But she'll let him worship her, giving him a jerk off lesson. She slowly takes off her dress, posing her long legs, making him want to taste her pantyhose. He wants to suck her toes so bad, but he can't because she likes to suck on her own her toes. All she wants him, and you, is to jerk off to her. So do it! Tug away.
Asking girls on the street to model hasn't been working lately. So our creepy camera man has come up with a new tactic. He needs interviews for his documentary on the city. He tries it out on Mae Olsen, another girl in sexy tight pantyhose he sees waiting in her car. He watches her for awhile, surprised when he see she isn't wearing no panties. He approaches her with the new game plan. Yet, she wants to be compensated. He offers some money, which gets her into his studio. She doesn't understand why he keeps filming her feet. He doesn't even have questions to ask her. He confesses his true intentions. This Princess is no cheap prostitute, nor does she mess with guys that aren't good enough for her. But she does love to be worshipped and instructing guys how to jerk their cocks. For some more money, that's what's going to happen. She notices how much her creeper likes her pantyhose and feet, so she teases him with them. She caresses the smooth stockings, pointing her cute feet towards his face. The real fun begins when she lets her dress drop. You'll definitely enjoy this video, especially if you love being told how to whack off.
Our creepy camera man loves girls that actually modeled before. There's something about making models do his kind of photo shoots really turn him on. Plus, she's wearing bright purple pantyhose, tight around her long legs. After watching her for awhile, he can see right up her skirt. Guess what she's not wearing? That's right, no panties. He gets her back to his studio for one of the highest prices he's ever paid. She poses for him, a bit bothered his camera keeps focusing on her high heels and legs. He finally admits his true intentions: he wants to fuck. This model Goddess is definitely not up for it. But, for some more money, she'll let him worship her. She'll even let him jerk off. She loves instructing dirty creepers how to tug on their pathetic dicks. She stretches her longs for him, slowly pulling down her dress, slipping of her heels, caressing her soft pantyhose. She teases her creeper with her cute little toes, rubbing her pantyhose against her pussy. We know you want to smell them. Too bad you can't. You can only watch and blow your load for her.
Elizabeth Bentley
March 20, 2014
Guess who our creepy camera man got into the studio? Elizabeth Bentley. That's right. Elizabeth Bentley walked down our halls, sat on our couch, and did some dirty things we know you all will love. Looking for his type of girl, our creeper can't but notice the amazing porn star. He follows her into a restaurant, of course discreet with his camera. You would think this successful performer would wear the best lingerie. Her pantyhose are quite nice. But she isn't wearing any panties. This is a treat for any fan. Her creeper gathers the courage to admit his love for her. Of course, he has to ask if she would take some pictures. This in-demand porn star does nothing for so little. He really had to spend some money on this opportunity. She does agree. After a few pictures, he admits his dream. Of course, there's no way this porn Goddess would ever fuck some random loser. But she's flattered and does want to give her fan an experience. He can worship her as she shows off her tight pantyhose and high heels. She wants him to jerk his cock in a specific manner as she slowly undresses, stretch out her long legs, and pull on her cute itty bitty titties. She sniffs her pantyhose. You know they smell good. Yet, all you can do is watch and imagine.
Young pretty girls wearing pantyhose and no panties is very easy to find nowadays. Our creepy camera man walked around for a few minutes and came across the sexy Seqora. She's new to town and is actually job hunting. Seems like the lack of underwear is a tactic she was planning to use. Lucky for her, she just met someone who's willing to pay for a particular service. This unemployed girl is quite tough on a price for a modeling job. But she accepts and poses for her creeper in his studio. Yet, his camera keeps focusing on her high heels and toned legs. He finally confesses his true intentions. Of course, she's not interested. He's not good enough and he could never afford a night with her. But, for some more money, she'll be his Goddess which he can worship with his cock out. She's generous enough to instruct him how to stroke his dick as she slowly undresses, posing her legs in her tight pantyhose. She let's him watch her play with her cute bouncy boobs and tasty pussy. Can he at least suck on her cute little toes? No. If he has a vibrator, she'll use it. Fortunately for you, he does.
Adrianna Lily
March 6, 2014
No matter how busy the city might be, our creepy camera man has no trouble spotting out Adrianna Lily. It must have been her tan pantyhose. Or maybe it's because she isn't wearing any panties. This business major knows the price of a few pictures. Her creeper has to haggle with her before they can agree on a price. But he gets her back to his studio to take a few pictures. She poses very well, yet she's confused why his camera keeps focusing on her feet. He finally admits why she's there, which this self proclaimed Princess Goddess doesn't take lightly. The type of guy that would trick a girl only deserves to worship their Princess Goddess, jerking off as she plays with herself. Her creeper can't touch, but she'll do him the favor of instructing him how to stroke his dick. He wants to fuck her so bad, but he's not good enough. So he agrees. And he has to still pay her for her time. We're thinking this future entrepreneur will be quite successful. She can get the start-up money from pathetic creepy losers like you.
Harmony Coxxx
February 27, 2014
Harmony Coxxx enjoys spending her lunch break in the park. She has her own bench in front of a beautiful fountain. Everyone needs a calm and serene atmosphere from their hectic job. If she only knew our creepy camera man is watching her behind nearby bushes. He can spot a hot girl wearing pantyhose a mile away. This naughty secretary feels quite comfortable on her bench, stretching her legs out, letting her tight red skirt ride up, giving her creeper the visual he loves: no panties, just silky pantyhose against a bare pussy. He approaches her with the usual ploy, but she declines at first. Of course, a few more dollars gets the girl in his studio. She notices his camera keeps going down to her legs and high heels. But she keeps posing. Her skirt rides up again, giving her creeper full view of what's she's not wearing. She confesses she does it to keep her boss happy. And it's quite hot outside. Our creeper matches her confession with what he wants. That's where his luck runs out. There's no way he's touching this Princess. But she wants the cash, so she'll talk dirty while he strokes his cock. She slowly undresses, pointing her cute toes towards him, rubbing along her bubble ass and flirty twat, shaking her jiggly titties. So don't waste time. Pull your cock out and jerk it. That's all you're going to get.
Elena Petrova
February 20, 2014
A nice walk through the park can lead to some fast and easy cash. That's how it worked our for Elena Petrova. Our creepy camera man has been following her for awhile, watching her long legs and black pantyhose. She finally finds a rock to sit on for a rest. She thinks she's alone, feeling comfortable enough to spread out her legs. Her creeper definitely is enjoying the view, since she's not wearing any panties. She gets up and continues her tour. This is the time for our camera man to approach her. He offers her a modeling job, but she doesn't accept until he offers some real money. She goes to his studio and poses for him. But his camera isn't on her face. He roams her long legs, juicy ass, squeezable boobs with his camera. He can't resist anymore. He tells her he wants to fuck her, offering more money. But he isn't good enough for this bratty princess. She stretches out her long legs in front of him, raising her skirt up, letting him drool over exposed ass and pussy. She points her toes towards him, making him want to touch, suck and lick. But he can't. She instructs him how to jerk his cock, because that's all he can do. You as well, so pay attention. She pops her booty up and reaches for her pussy and pulsing ass hole. She pulls off her pantyhose and brings them to her nose, getting horny over fragrance. She loves flossing her pantyhose against her clit, running them through her mouth. She loves the silky fabric against her breast. They feel better than a creeper's hand any day.
Nichole Mac
February 13, 2014
Our creepy camera man has some good days, but also some bad days. He stumbled upon a cutie in pantyhose, but couldn't convince her to go back to his studio. She quickly walks to her car and drives off. But things get a bit better within the same parking lot. Waiting in her car, Nichole Mac has no clue she's being watched. Her door is open and long legs dangling on the concrete. He runs his zoom lense up her legs, mouth watering over her pantyhose and spiked high heels. If she knew he was watching, she probably wouldn't have her legs spread open. He's glad, since she's wearing no panties. She locks up her car and walks towards the exit, springing her creeper into action. He offers her a modeling job, but she's running late. He heightens his price, which convinces her. Back in the studio, she's posing, but a little confused. He keeps taking pictures of her legs and feet. He finally confesses his true intentions of wanting to fuck her. But he isn't paying enough. This princess does not fuck anyone for so low. But for the same price, he can watch and jack off to her. She teases him with her long legs, smoothing her hands over her soft pantyhose. She slips off her high heels, waving her feet in her creeper's face. Piece by piece, she wears nothing but her pantyhose, rubbing her pussy. She takes them off smells them. They smell so good. Too bad you'll never know.
Latest PantyhoseCreep.com Updates