Latest PantyhoseCreep.com Updates
Charli Shiin
June 26, 2014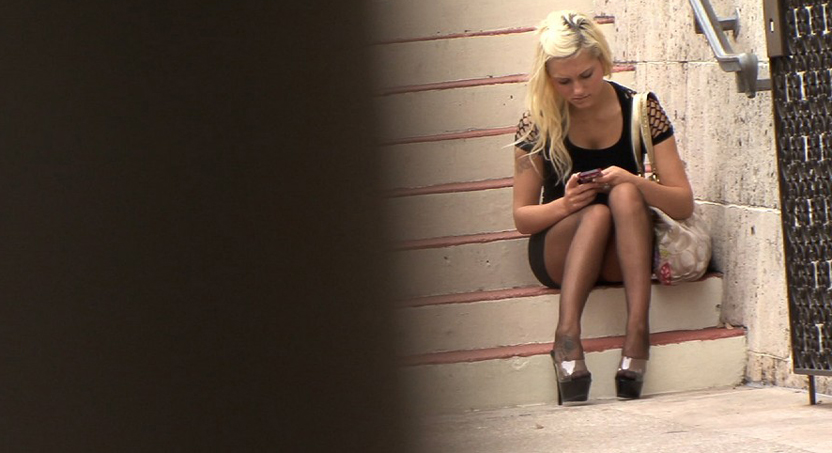 The Winter Music Conference and Ultra are the hottest events in Miami. Sexy women litter the streets in barely-there outfits. Our creeper, not a big music fan, takes advantage with his camera and looks for another babe to bring back to the studio. He spots a hot blonde sitting. She looks like she's waiting for someone. Whatever the case, her creeper's lens scopes every inch of her longs legs, tightly bound in silky shiny black pantyhose. Her clear high heels turn him on even more. To top this find with the biggest cherry, she isn't wearing any panties. How does he get so lucky. She's so hot, a guy on a bike screeches to a halt in front of her, trying to get her number. When she gets up to leave, he makes his move. Charli Shiin is in town for the music festival. If he wants to get her back to the studio he has to drop some serious cash. She does need some drinking money. He gets her back to the studio and poses for her creeper. She doesn't understand why his camera is on her long legs and not her face. When she finds out of his true intentions, there's no way. He's not good enough. But she does like watching guys jerk off to her. She loves teasing a guy with her toned legs and tight pussy. Her creeper has a hard time holding his load. You will too.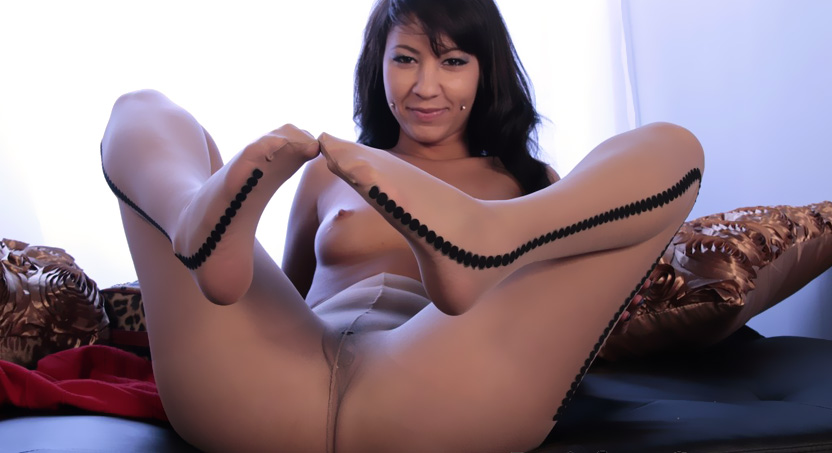 Week to week, our creepy camera guy is successful in finding young beautiful girls walking around the city in tight silky pantyhose. Another thing they all have in common is they aren't wearing any panties, ultimately telling us why they aren't and then teasing us with what's not covered. But we never considered what if we ran into a girl we've shot before. Would she ignore us or confront us? On the prowl once again, our creeper was following a pair of long legs in shiny nylons and tall red high heels. Guess what. She too isn't wearing any panties. When he aims the camera higher to catch a glimpse of her face, it's Ezmie Lee. He was able to lure her into his studio for a "modeling" session. This time, she spots him, walking right up to him. Luckily for us, she's happy to see her old creeper. We created a monster and competition because she's been creeping around for the same thing. To help us out, and possibly to get off, she wants to do another shoot. The second she steps into our studio, she wants her creeper to pull out his cock. This girl has had plenty of time to learn more about jerking a cock. If you thought she was hot before, she gets even sexier and dirtier, licking her own feet up to her sweet toes. Of course, her creeper still isn't good enough to lay a hand on her. But he doesn't mind stroking his cock for this creeper Goddess.
Shelby Paige
June 12, 2014
It's a rainy day in Miami, but like the mail man, our creepy camera guy is out looking for another hot babe in pantyhose. If she isn't wearing any panties, even better. A short pink skirt and silky shiny pantyhose crossing the street grabs his attention. He follows the sexy long legs into the park, finding a tree to hide behind when the girl he's after sits down. This beauty has long blonde hair flowing in the wind, a cute face, and sexy tall high heels. Of course, her creeper is trying to see up her skirt, hoping for the lack of underwear. His instinct is dead on, for she isn't wearing panties. She gets up to leave. If he doesn't make his move, he's going to lose her. He introduces himself to Shelby Paige, offering his usual "modeling" opportunity. She has to run back to work, but the more money he offers the more interested she is. He gets her back to his studio and watches her pose for him, of course his lens focusing on her smooth nude pantyhose, aiming for the beloved up-skirt shot. He can't resist anymore and wants to fuck her so badly. He always confuses Goddesses for sluts. Shelby expects to be worshiped. She would never fuck such a creepy dude. But since he's offering more money, she'll instruct him how to jerk his cock. Showing off her long sexy legs, slowly undressing down to her sexy tight pantyhose, and playing with her gorgeous tight pussy definitely helps to stroke out a big steamy load. Watch for yourself.
Our creepy camera man decided to explore a new part of the city, hoping to find another hottie in silky pantyhose with the possibility of not wearing underwear. From our research here...well, more like our stalking, we've concluded that women don't like wearing panties with nylons. To prove this, we'll see if Layla Lopez, the next beauty that caught his camera's attention, is or isn't wearing any panties. She sits down at a cafe, texts on her phone, totally unaware her creeper isn't too far watching. When she fixes her tight black pantyhose, giving a perfect view up her skirt, her creeper takes advantage, proving girls with pantyhose don't wear panties. He wants to talk to her so bad. She agrees to go back to the studio for a few pictures. She poses for him. One particular pose reveals what she's not wearing. He's ready to fuck. Too bad that won't be happening. She doesn't fuck losers. To torment him, he'll just have to watch her slowly undress, pulling her shiny pantyhose up her pussy, giving you all a perfect camel toe to bust your load. You better hold it until she lets you come. You don't want to mess with sexy vixen.
On his usual sweep of the city, our creepy camera man spots a pair of long longs in tight pantyhose. Of course he follows, glad how beautiful Roxanne Rae turned out to be. She finds a seat to text on her phone, which of course gives her creeper the perfect opportunity to see if she has any panties on under her dress. Good news. She has none. He approaches her with the usual deal, able to get Roxanne in the studio. What a treat she turned out to be. She poses for us, raising up her skirt. Her creeper has to mention the lack of underwear, which leads to his true intentions. Roxanne isn't completely upset, yet there's no way she would ever let a creepy dude even touch her. But she doesn't mind giving a show, instructing him how to jerk his cock. She slowly undresses, stretching her long legs, pulling on her tight nylons. She loves to play with her pussy, showing how she gets her self off. Too bad her creeper couldn't help.
Ashton Pierce
May 22, 2014
When our creepy camera man told us about his recent discovery, we pushed him to follow her around. Not getting her in our studio would be the greatest loss thus far. Whatever it takes, how much it cost, his main objective is to get her in. Watching Ashton Pierce from afar is privilege enough. On the phone, she relaxes, unaware of a zooming camera traveling up her tight skirt. To our surprise, she isn't wearing any panties under her silky tight pantyhose. Her creeper approaches her. She has somewhere to be, declining his offer. But of course, when the price is right, any girl will spend a few questions answering questions. She poses for us, showing off her long sexy legs, pressing her big bouncy boobs together. When her creeper reveals his true intentions, Ashton sure isn't happy. How dare this scum bag think he would ever have a chance? This Goddess was meant to worship. She torments him by slowly undressing, only allowing him to jerk off. Whatever she wants, we'll take. You don't want to miss this buxom beauty.
Our creepy camera man has been following Jade all day. Could it be the tight short black dress she's wearing, hugging every curve? Her long jet black hair? Maybe her tight black pantyhose? All do help. She isn't wearing any panties. It's most likely that. He approaches her with the usual "model gig", which excites jade. She would love to model for her creeper. He doesn't even have to pay much. Her modeling consists of lifting her dress, spreading her long legs wide. Things do change when he confesses his horniness for her. She may be half naked already, but she's way too good for him. She isn't as naive as he hoped for. But, he can jerk off to her. She'll even instruct him how to. Rubbing on her wet clit, pulling on her tight pantyhose, definitely gets him hard. The more she takes off, the closer he gets. But he, and you, can only cum when she decides. Worship your Goddess properly. Hold your load until she's ready.
There are so many hot women walking around the city, long legs wrapped in tight silky nylons. Our creepy camera man has his eye on a particular girl, chloe foster. You really don't have to guess why. She isn't wearing any panties under tight white skirt. Plus, her creeper can't stop looking at her pantyhose and red tall high heels. He approaches her with the usual lie. But she's modeled before and knows what it pays. He has to shell out a few bucks to get this blonde beauty back to his studio. His camera keeps falling down to her toned long legs. Posing, she raises her shirt and almost exposes her boob. We're thinking she did it on purpose. Yet, when her creeper reveals he wants to fuck her, she refuses. He's not good enough. Looking at him, she figures he doesn't even know how to jerk his own cock. She decided to give him a lesson. She doesn't mind taking a few clothes off and touching herself to help him out. She knows stretching her legs in her sexy pantyhose in his face is the biggest tease. Just listen to her. She knows how to instruct pigs to handle their junk.
Our creepy camera man has found another model type, Tess, strutting around town in sexy pantyhose. He follows her everywhere she goes, zooming closely on her stockings, trying to see up her tight red skirt. She finds a spot to sit, allowing her creeper to set his camera in the right position to see up that skirt. His guess was right. She isn't wearing any panties, a beautiful tight pussy rubbing against silky pantyhose. He's taken how flattered she is from his modeling position, not having to spend too much to get her back into his studio. She likes the attention of his camera, posing for him anyway she can. He wants to fuck, offering a few more bucks. She won't, but she doesn't want to stop. She feels up her skirt, taunting her creeper with her long legs and high heels. She wants him to jerk his cock as she slowly undresses, rubbing on her tight body. The ways she pulls on her pantyhose will make you cum in seconds. But hold your load. She wants to show you what else she can do with her body.
Sydney Cross
April 24, 2014
The second our creepy camera man saw Sydney Cross' long legs in her sexy pantyhose, he followed her like a hungry puppy. When she finally finds a peaceful place to relax, she spots him watching her, walking right up to him. He couldn't help it. She isn't wearing any panties. It takes a lot of money to keep this tall beauty's attention, but her creeper is successful, bringing her back to his studio for a photo shoot. Her pantyhose and tall high heels get the best of him, making her question his true intentions. He finally confesses his need to fuck her. This Goddess doesn't fuck losers stalking girls with a camera. Scum like him are only good enough to worship her. Lucky for him, she let's him jerk off, instructing him how to. She slips of her dress, stretching her longs legs for him, taunting him with her wiggly toes and wet pussy. She's horny and wants a vibrator. You have to watch what she does with it.
Latest PantyhoseCreep.com Updates